HEARING VS. LISTENING
There is a difference between hearing and listening.  Hearing is passive and requires nothing from us other than functioning ears.  On the other hand, listening is active and requires a kind of attentiveness.
I watched a couple conversing.  Both of them were deaf.  They could not hear, but they were listening intently to one another.
If you play "Four Truths and a Lie," you will be able to tell a truth from a lie by listening intently.  Pay attention to the person speaking, and notice small details like the twitching of a muscle or an inflection in the person's voice.
Do the same.  Listen intently when you go within and face your shadows.
HOW DO I GO WITHIN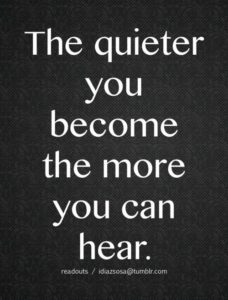 "How do you feel?"
"What are you thinking of?"
"What were you up to yesterday?"
When someone asks what you are feeling, what you are thinking of or what you did yesterday, you will automatically go within to find an answer.  Your attention will shift from the outside world to your inner world.
WHAT WILL I FIND
You will find a world teeming with thoughts, feelings, sensations, memories, hopes, wishes, dreams and shadows.  Shadows come in all shapes and sizes—there's the chatty, the heavy and foreboding, and the lurking.
In Inner Child Work, shadows are the shattered and wounded parts of the child that can be restored.
WHAT DO I DO
Get accustomed to your inner world.  Shine your light of awareness.  Move around.  Curiosity won't kill you.  Talk to your shadows.  More importantly, listen intently to what they have to say.
BETTER THE DEVIL I KNOW
I became familiar with my shadows of—
shame and humiliation
guilt and blame
apathy and despair
grief and regret
fear and anxiety
desire and craving
anger and hate
pride and scorn
Better the devil I know….
Before I became conscious of my shadows, I reacted to people and situations as if on auto-pilot; my shadows would grab the wheel and take over.
By becoming aware of and by listening to my shadows,  they became my friends and  advisers.
Soon, love, peace and joy filled my inner world;  and consequently, flowed to my outer world.  I became less reactive to people and situations, and more able to respond with love, peace and joy.
Learn more about Shadows

I Watched a Shadow Form